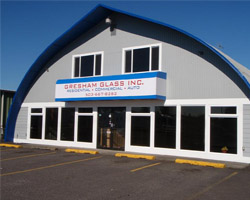 We've been a locally owned and operated glass business serving Gresham, NE & SE Portland, Sandy, Damascus, and surrounding areas for over 37 years. Our shop is located at 250 NE Hogan Drive in the heart of Gresham. We specialize in glass for both residential and commercial properties. Our company sells the highest quality products and we can assure a job well done in a timely manner. We perform work for many well-known businesses and restaurants, school districts and residences. Our experience and our hometown service feel have made us one of the leading glass providers for several different industries in the area. We are licensed, bonded and insured in both Oregon and Washington.
Here at Gresham Glass, we can handle both your residential and commercial glass needs. We specialize in all types of glass so that you can get the finished product that you are looking for. Our glass services are completely comprehensive, which means that you won't have to go anywhere else to have your glass needs met.
We know that customer satisfaction is what has kept us in business for all of these years, and we strive for this satisfaction every day. Our friendly technicians are experienced and skilled at what they do. Your repairs and installations will be done prompt and precise the first time. Our willingness to go the extra mile to keep our customers happy has built quite a positive reputation for Gresham Glass.
As a comprehensive service provider, come and see us today for any glass work you need at your home or business. Our goal is to provide you with the highest quality products so that you can get the glass that you deserve.
Call us at (503) 667-8282 for all your glass needs.
---
Customer Testimonials:
Tim Seery
Facilities Coord./ Maintenance Supervisor Reynolds School District # 7
---
"Over the past nine years Reynolds School District has had its share of broken windows and window up-grades. I have always been impressed at the professionalism, and promptness of your company and the quality service your company provides. Anytime we have an emergency which seems to be often Gresham Glass is there to board up a window or have it repaired immediately. I would recommend Gresham Glass to anyone who wants a quality job done, in a timely manner, and most important priced right. Thank you for the continued high level of service your company provides."
Bob and Suanne Moon
---
"A BIG thank you and Gresham Glass for the excellent job you did on our replacement windows. We Love them!! We will definitely recommend you to anyone looking for new windows."
Suzanne
---
" Thank you to all of you for the beautiful bouquet. It was so very thoughtful and generous. I have truly enjoyed working with all of you these many years. It has been an honor to work with a company with such integrity. Thank you for your kindness and friendship."